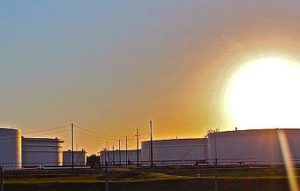 Tank terminals have associated piping that is considered complex due to the varying configurations that are required.  The piping requires integrity assessment in order to extend the useful life of the system.  Terminal piping sometimes cannot be properly analyzed with In Line Inspection tools because of the complexity of these systems.  There is however another way to increase the operator's confidence in the reliability of his tanks piping systems.
Terminal piping typically has air to soil interfaces (ATS) that require evaluation in order to maximize the useful life of the piping.  Piping is also buried in congested tank terminal yards and can complicate the application of cathodic protection.  The coating systems on this piping can vary which is an important factor in ascertaining piping corrosion. 
There are many issues complicating the analysis of the piping systems but with a systematic Risk Based Inspection (RBI) approach coupled with available integrated technology a cost effective evaluation can be performed.  The process consists of gathering as much available data as possible concerning pertinent aspects including construction history, pipe specifications, cathodic protection history, leak history if any and any other factors concerning the piping's service history.  The gathering of this data will be very valuable in performing a Pre RBI analysis.  The second step in the process is to do a comprehensive visual inspection of the terminal and evaluating the ATS interfaces from a corrosion perspective.  The pre assessment phase and the RBI analysis will provide a baseline to work from and compare prior beliefs to actual discovered conditions from the integrated inspection process. 
The integrated inspection process will consist of a comprehensive study of the effectiveness of the cathodic protection system.  The cathodic protection system reads in conjunction with the above ground coating defect surveys will identify excavation sites for direct piping evaluation.  The findings on these direct examination digs will dictate the path forward.  The idea is to identify the areas on the piping that have the highest probability of corrosion and evaluate them for corrosion.  If the areas that should exhibit corrosion are not corroded then you can extrapolate that to the other piping provided conditions are the same. 
The Air to Soil Interfaces will be analyzed utilizing a risk matrix system that is based on coating characteristics and cathodic protection levels.  If the piping falls into a high risk category the ATS will be directly evaluated and/or guided wave will be utilized only if required. 
The entire process can be performed with your terminal in full operation.  The excavations will be the biggest concern.  Excavations are meant to be minimized but will provide the operator with a post RBI evaluation.  The inspection interval will also be calculated based on actual corrosion findings.  The process will allow the operator to manage his facility based on the findings of this approach.